Amino Acid - Building Blocks of Life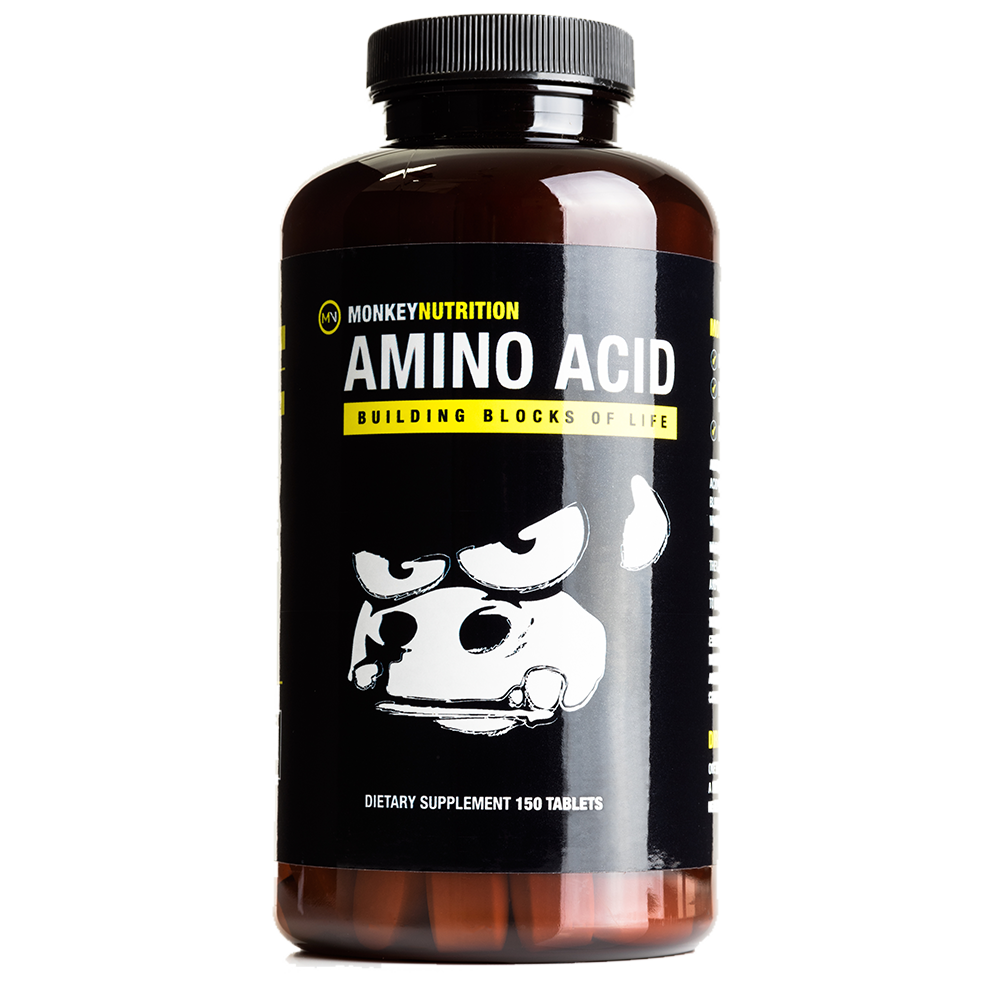 £21.95
Free delivery on orders over £125.00.
  Standard Delivery £3.75.
Amino Acids help to increase lean muscle mass, recovery times and improve overall general health. They are the building blocks of life!
150 Tablets
Amino acids are essential and Monkey's Amino Acid is an essential supplement! Amino acids are the building blocks of life and are vital for protein synthesis!

In short, if you are not supplementing with a protein powder for whatever reason, then you absolutely should be supplementing with amino's!

Taking amino acids first thing in the morning, before, during and after a workout and even before bed will ensure your body's anabolic machinery is fully engaged and energised for vital metabolic processes at all times. The general health benefits of amino acid supplementation cannot be over-stated!

Serving Size: 1 Tablet
Calories: 10 Calories From Fat: 0
Amount Per Serving %GDA

AMINO ACID PROFILE:
Alanine 2.6%
Lysine 7.3%
Arginine 2.6%
Methionine 2.5%
Aspartic Acid 6.3 %
Phenylalanine 4.4%
Cystine 0.3%
Proline 10.1%
Glutamic Acid 20.0%
Serine 5.6%
Glycine 2.4%
Threonine 4.3%
Histidine 2.7%
Tryptophan 1.1%
Isoleucine 5.4%
Tyrosine 5.6%
Leucine 8.2%
Valine 6.4%

% Guideline Daily Amount (GDA) is based on a 2000 calorie diet. Vitamin A <1%, Vitamin C <1%, Calcium 3%, Iron <1%.
Other Ingredients: Calcium Caseinate, Soy Isolate, Magnesium Stearate, Croscarmellose Sodium and Stearic Acid.
As a dietary supplement, take 1 to 3 Amino Acid tablets daily, or as directed by a health care professional.

ALLERGEN WARNING: CONTAINS MILK AND SOY.

CAUTION: This product is not intended to diagnose, treat, cure, or prevent any disease. Store in a cool dry place. Do not exceed recommend dose. Not recommended for individuals with allergies to dairy or soy products and should not be used by pregnant or nursing mothers or children under 18 years of age without the advice of a physician. This product is processed in a facility that handles milk, soy, wheat, egg, peanuts, tree nuts, fish and crustacean shellfish and may contain traces of all of the above.

WARNING: KEEP OUT OF REACH OF CHILDREN. DO NOT USE IF SAFETY SEAL IS DAMAGED OR MISSING. STORE IN A COOL, DRY PLACE.

NOTICE: Use this product as a food supplement only. Do not use for weight reduction.

This product is intended to supplement the diet with additional protein and should not be used as a meal replacement. Not for use as part of a weight loss program without the direct supervision of a health care professional. Excessive protein intake may result in impaired kidney function.

These statements have not been evaluated by the Food and Drug Administration or the Food Standards Agency. This product is not intended to diagnose, treat, cure, or prevent any disease.