Fish Oil - Omega 3 Rich Enteric Coated DHA & EPA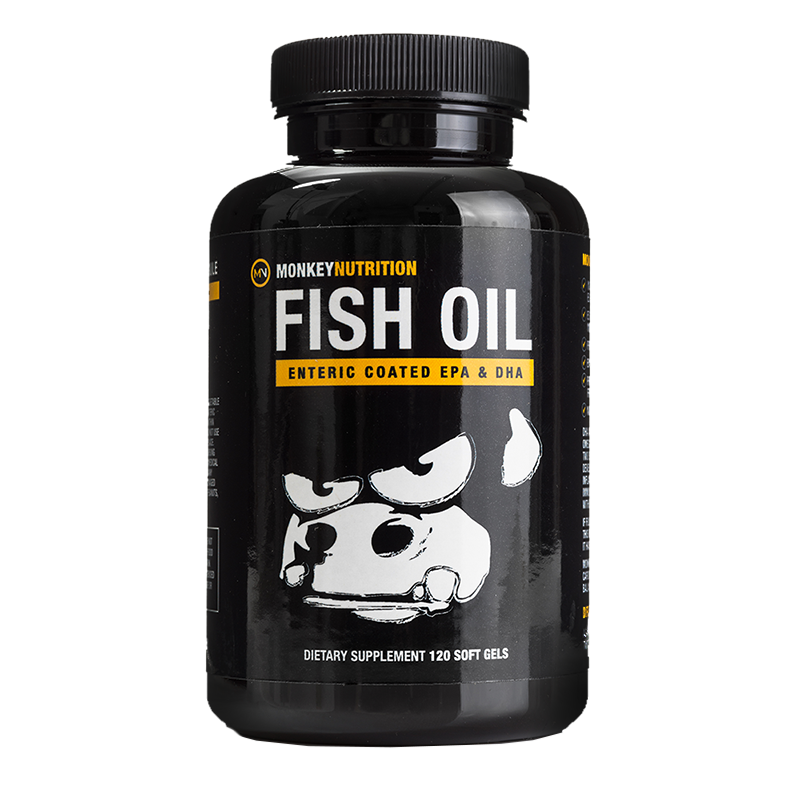 $35.00
Free delivery on orders over £125.00.
  Standard Delivery £3.75.
Fish Oil increases your intake of omega 3 essential fatty acids (EFAs), providing you with the extremely important shorter chain EFAs, EPA and DHA. Essential for cognitive function, a healthy heart and joint mobility, our fish oil is processed via molecular distillation and each soft gel is enteric coated to support full absorption.

120 Enteric Coated Soft Gels
DHA and EPA are two essential fatty acid components of omega 3 and their importance cannot be overstated! These two super EFA's are essential to normal growth and development.

They have been shown to reduce any aggressive inflammatory response in the body. Boost functioning of the immune system and may also improve performance in athletes with exercise induced asthma.

If full contact sports are your thing then DHA is a must! This EFA is critical for brain health and cognitive function; It has been shown to reduce the incidence of concussions. Fish oil also supports a healthy heart by enhancing cardiovascular function during exercise, as well as supporting balanced function of hormones and neurotransmitters.

Each Fish Oil soft-gelatin capsule contains 1000mg of fish oil, providing 700mg DHA/ EPA complex. Our Fish Oil capsules are enteric coated to prevent any loss of the DHA and EPA during digestion; studies show that oils and other uncoated capsules may lose up to 30% of their potency during the digestion process. For an ultimate stack that will aid fat loss, preserve muscle tissue, promote healthy cognitive function, enhance stamina, speed up the recovery process and improve sleep patterns, take Fish Oil with CLA in a ratio of 2 CLA : 1 Fish Oil.

- Processed via molecular distillation
- Enteric coated to support full absorption
- Produced from oil sourced from South America
- No fishy aftertaste

Non-GMO Formula.
Serving Size: 1 Soft Gelatin Capsule
Amount(per Serving) %GDA
Calories 10
Calories From Fat  10    
Total Fat  1 g    2%
Polyunsaturated Fat     0.5 g     *
Fish Oil 1000 mg *
EPA (Eicosapentaenoic Acid)  400 mg *
DHA (Docosahexaenoic Acid) 300 mg *

*% Guideline Daily Amount (GDA) not established.
Other ingredients: Gelatin (bovine), Vegetable Glycerin, Food Glaze, Purified Water, Natural Vitamin E, HPMC and Enteric Coating.
As a dietary supplement take 1 Fish Oil soft gel capsule 2-3 times daily.

ALLERGEN WARNING: CONTAINS FISH (SARDINES) AND SOY.

CAUTION: Do not exceed recommended dose. Pregnant or nursing mothers, children under 18, and individuals with a known medical condition should consult a physician before using this or any dietary supplement. This product is processed in a facility that handles milk, soy, wheat, egg, peanuts, tree nuts, fish and crustacean shellfish and may contain traces of all of the above.

WARNING: KEEP OUT OF REACH OF CHILDREN. DO NOT USE IF SAFETY SEAL IS DAMAGED OR MISSING STORE IN A COOL, DRY PLACE.

These statements have not been evaluated by the Food and Drug Administration. This product is not intended to diagnose, treat, cure, or prevent any disease.