Primal26 - Whey Protein Isolate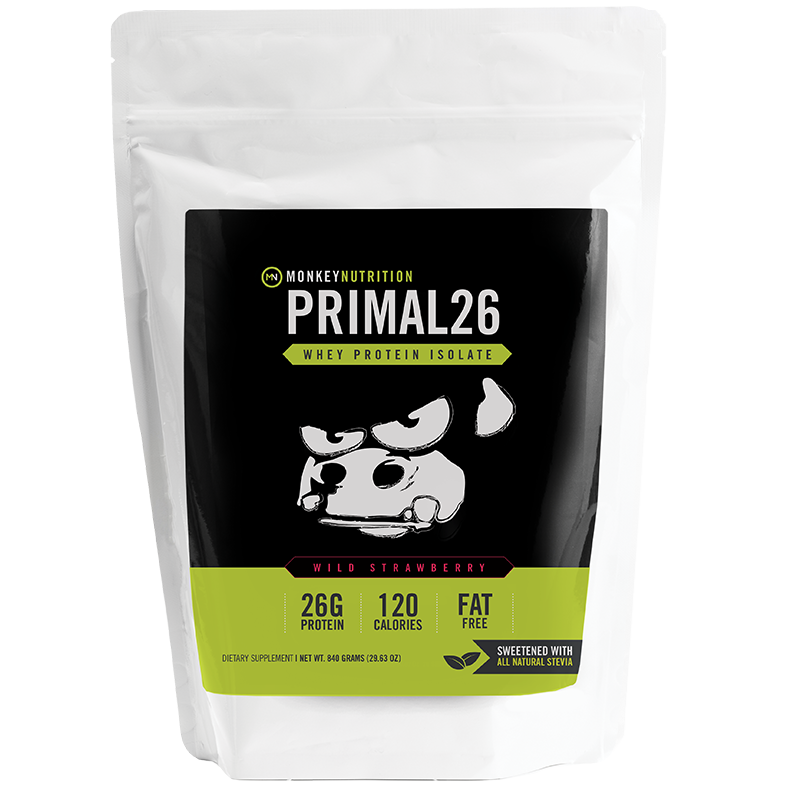 $47.00
Free delivery on orders over £125.00.
  Standard Delivery £3.75.
Award Winning (Men's Health UK Magazine), high quality  - Fat free, less than 1g of sugar, no soy and 100% natural flavouring! Primal26 is derived from the highest quality milk, sourced from one of the world's most reputable dairy companies and processed to give you unmatched biological activity! This non-GMO formula uses sunflower lecithin.

420g (14 servings), 840g (25 servings) 
Our award winning protein, both French Vanilla (non-GMO) & Velvet Chocolate now use 100% natural flavouring systems, are instantized with sunflower lecithin rather than soy and sweetened with both stevia leaf and monk fruit. 

Monk fruit has been used as a natural sweetener for centuries, and along with its magical sweetening powers, has been regarded as the longevity fruit due to high levels of antioxidants called mogrosides. Most fruits are sweet due to their natural sugars, whereas monk fruit is sweet due to mogrosides, which are metabolised by the body differently than fruit sugars and therefore have no effect on blood sugar. We are the only supplement company in the UK to currently use monk fruit in our powders, and convinced you'll agree, this new addition offers a pleasing natural sweetness which improves taste and enhances overall consumer experience. Primal26 is ideal for muscle growth and repair, fat loss, or general well-being.
Serving Size 1 scoop (33.5g)
Amount Per Serving Calories: 120 Calories From Fat: 5
Amount %GDA
Total Fat 5 g 2%
Saturated Fat 0 g 0%
Trans Fat 0 g 0%
Cholesterol 5 mg 2%
Sodium 100 mg 6%
Total Carbohydrate 2 g <1%
Dietary Fiber 1 g 0%
Sugars <1 g
Calcium 150 mg  15%
Protein (as is) 26 g
Typical Amino Acid Profile per Serving
Isoluecine (BCAA**/***) 1744mg
Leucine (BCAA**/***) 2617mg
Valine (BCAA**/***) 1516mg
Arginine (EAA***) 482mg
Lysine (EAA***) 2388mg
Cystine 620mg
Methionine (EAA***) 551mg
Glutamine 4476mg
Phenylalanine (EAA***) 734mg
Glycine 414mg
Threonine (EAA***) 1860mg
Aspartic Acid 2732mg
Tyrosine 712mg
Proline 1676mg
Histidine (EAA***) 460mg
Serine 1309mg
Alanine 1262mg
Tryptophan (EAA***) 460mg
 
**Branch Chain Amino Acid ***Essential Amino Acids
Vitamin A: Less Than 1% Vitamin C: Less Than 1% Calcium: 4% Iron: Less Than 1% *% Guideline Daily Amount (GDA) is based on a 2,000 calorie diet.

***THE ABOVE VALUES ARE FOR FRENCH VANILLA. OTHER FLAVOURS MAY VARY SLIGHTLY (PROTEIN WILL ALWAYS BE 26G PER SERVING).

Velvet Chocolate Ingredients: Whey Protein Isolate, Cocoa Powder, Natural Flavours, Xanthan Gum, Monk Fruit, Salt, Stevia Leaf Extract (Reb A) and Sunflower Lecithin.

French Vanilla Ingredients: Whey Protein Isolate, Natural Flavors, Xanthan Gum, Stevia Leaf Extract (Reb A), Monk Fruit and Sunflower Lecithin.
As a dietary supplement, take 1 scoop per shake (1-2 shakes daily) to supplement the diet with an additional 26g of protein. For best results, mix with 200-300ml of water or a beverage high in carbohydrates (almond milk is recommended) and take between meals or before or after training. Do not use this product as a meal replacement without the supervision of a health care professional.
CAUTION: This product is manufactured and packaged in a facility which may also process milk, soy, wheat, egg, peanuts, tree nuts, fish and crustacean shellfish, and may contain traces of all of the above.
WARNING: KEEP OUT OF THE REACH OF CHILDREN.DO NOT USE IF SAFETY SEAL IS DAMAGED OR MISSING. STORE IN A COOL, DRY PLACE.
Not recommended for individuals with dairy allergies. Pregnant or nursing mothers, children under 18 years of age, or anyone with a known medical condition should consult a physician before use. This product is intended to supplement the diet with additional protein and should not be used as a meal replacement. Not for use as part of a weight loss program without the direct supervision of a healthcare professional. Excessive protein intake may result in impaired kidney function. Protein is second only to water as the most plentiful substance in the human body and provides nutritional components necessary for muscle tissue, internal organs, the formation of hormones and an endless number of other bodily functions. Protein consists of "building blocks" called Amino Acids and there are 20 genetically encoded Amino Acids found in the human body. Some of these can be produced by the body while 10 , known as Essential Amino Acids, must be obtained from the diet. Essential Amino Acid
These statements have not been evaluated by the Food and Drug Administration. This product is not intended to diagnose, treat, cure, or prevent any disease.