Therma-Rip - Extreme Thermogenic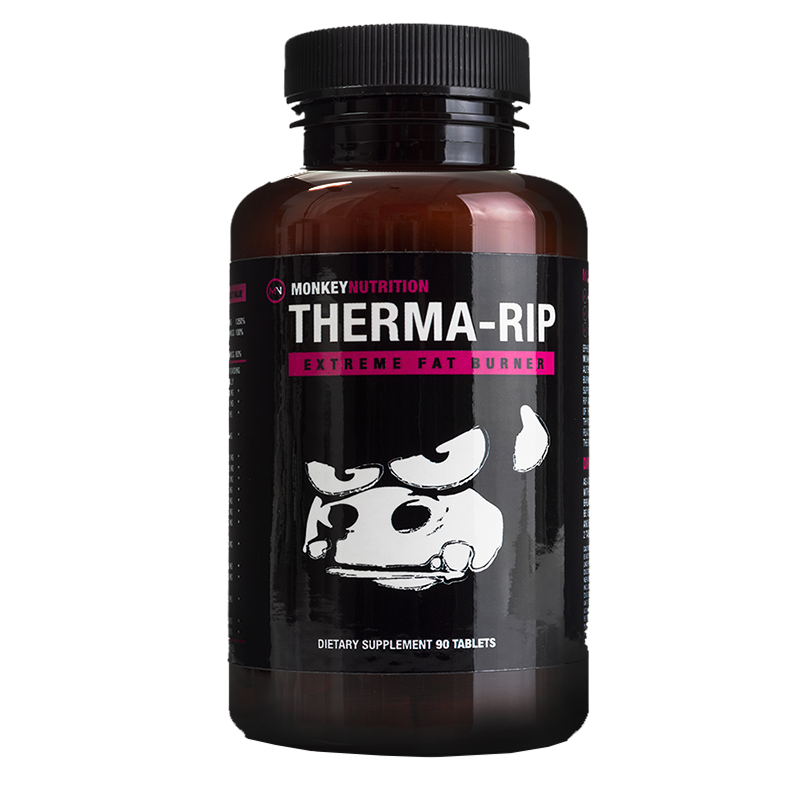 £16.95
Free delivery on orders over £125.00.
  Standard Delivery £3.75.
Therma-Rip is an all natural, extreme thermogenic complex contained within 1 easy to swallow tablet. Use Therma-Rip as part of a healthy weight management programme, or to fuel your workouts. Either way, you won't be disappointed!
90 Capsules
Therma-Rip combines thermogenics, metabolic and adrenal stimulants, appetite suppressants, diuretics, glucose disposal agents and thyroid regulators, as well as immunity enhancing ingredients. The combination of these ingredients is vital to weight management and can initiate chemical reactions that cause fat cells to release their energy for a more productive workout.

Used in conjunction with healthy diet, Therma-Rip may assist in preventing any more storage of fat in the long term. Taking Therma-Rip pre-workout helps your body to prioritise the use of stored fat as an energy substrate; therefore fuelling you for a much more effective workout, as well as promoting lean muscle tissue in the long term.
Serving Size: 1 Capsule
Amount Per Serving %GDA

Vitamin B-6 (as pyridoxine hydrochloride) 25 mg 250%
Iodine (from kelp) 150 mcg 100%
Chromium (amino acid chelate) 100 mcg 83%
Guarana (33% extract providing 100mg naturally-occurring caffeine) 300 mg *
Theobromine 100 mg *
Green Tea Leaf (98% extract providing 14 milligrams of naturally-occurring caffeine. Standardised to provide 45% EGCG and 75% Polyphenol Catechins) 50 mg *
Garcinia Cambogia (50% HCA) 125 mg *
Chitosan 125 mg *
Gymnema Sylvestre 50 mg *
Banaba (1% extract) 25 mg *
Calcium Pyruvate 50 mg *
Apple Cider Vinegar
(powder) 25 mg *
Grapefruit (as powder) 25 mg *
Coleus Forskohlii (herb powder) 25 mg *
White Willow Bark (herb powder) 25 mg *
Uva Ursi (powder) 25 mg *
Juniper Berry (powder) 25 mg *
Buchu Leaves (as herb powder) 25 mg *
Cayenne Pepper (powder) 10 mg *

*% Guideline Daily Amount (GDA) not established.
Other Ingredients: Magnesium Stearate, Stearic Acid, Microcrystalline Cellulose and Peppermint Oil.
As a dietary supplement, take 1 Therma-Rip tablet with 250ml of water 30-45 minutes before breakfast and lunch. This product should be used in conjunction with a sensible diet and exercise program. Do not exceed two tablets daily. Alternatively, take 1 tablet 30-45 minutes before your workout, but not later than 4 pm.


ALLERGEN WARNING: CONTAINS SHELLFISH

CAUTION: Do not exceed recommended dose. Avoid taking this product in conjunction with other dietary supplements which contain high levels of elemental chromium. This product is not intended for pregnant or nursing mothers, children under the age of 18, or individuals taking prescription drugs. Discontinue use immediately if nausea, sleeplessness, or nervousness occur. If you have a known medical condition including high blood pressure, diabetes, any cardiovascular disorder, heart disease, hyperthyroidism, if you are taking antidepressant medications or have questions about the advisability of taking this product, consult your physician before using this or any dietary supplement.This product is manufactured and packaged in a facility which may also process milk, soy, wheat, egg, peanuts, tree nuts, fish and crustacean shellfish.

WARNING: This product contains 100 mg of caffeine per serving (equivalent to 1 cup of coffee) KEEP OUT OF THE REACH OF CHILDREN. DO NOT USE IF SAFETY SEAL IS DAMAGED OR MISSING. STORE IN A COOL, DRY PLACE.

These statements have not been evaluated by the Food and Drug Administration. This product is not intended to diagnose, treat, cure, or prevent any disease.