M-Detox - 7 Day Whole Body Cleanse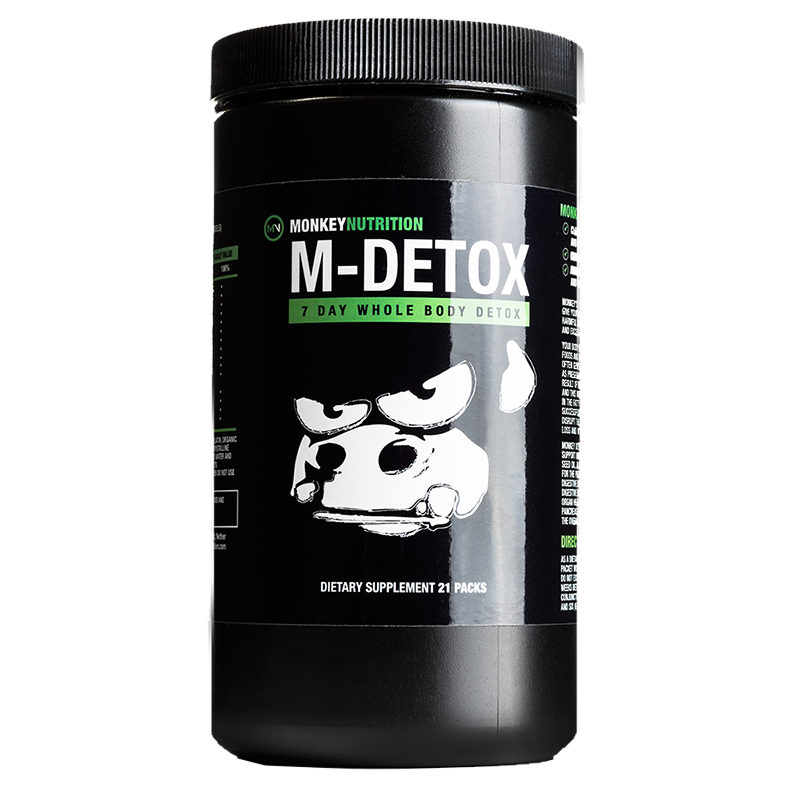 $45.00
Free delivery on orders over £125.00.
  Standard Delivery £3.75.
M-Detox is designed to provide the ultimate cleanse for the colon, liver, blood, lymph and immune systems. It helps combat inflammation caused by toxic build up and assists in protecting DNA, proteins and cell membranes.

21 Packets (10 Capsules / 2 Soft Gels)
Monkey's 7 day detox and cleanse has been specially formulated to give your body the ultimate clean out, helping to rid your entire system of harmful toxins that have accumulated as a result of a modern diet and excess alcohol consumption.

Your body is not designed to cope with the refined and processed foods and drinks of a modern, fast-paced era; these foods are often genetically engineered and contain harmful substances such as preservatives, hormones, pesticides, and other chemicals.

As a result of this bombardment, the elimination process is not effective and this means that many of these harmful compounds are stored in the fatty tissues and gastrointestinal tract. If toxins are not successfully eliminated from the body they will accumulate and disrupt the body's natural physiological functioning, inhibiting fat loss and in the long term leading to disease.

Monkey Detox contains an array of powerful cleansers and other support ingredients such as Psyllium Husk, Cascara Sagrada, Flax Seed Oil, Black Walnut, Cape Aloe and Spirulina.

These are  important for the preservation of the colon, liver, blood, lymph, immune and digestive systems. They speed the elimination of waste through the digestive system and assist in a "whole body" healing; enhancing organ health by increasing secretions from the liver and pancreas, which in turn stimulates the gallbladder and increases the overall health of your digestive system.
Serving Size: 1 packet (10 capsules / 2 soft gels)

Amounts per serving:
Psyllium Husks      4200 mg     *
Flaxseed Oil      2000 mg     *
Cape Aloe (herb powder)      500 mg     *
Black Walnut (herb powder)      500 mg     *
Cascara Sagrada (herb powder)      600 mg     *
Spirulina      250 mg     *
Senna Leaves (herb powder)      100 mg     *
Fennel Seed (herb powder)      100 mg     *
African Bird Pepper (herb powder)      40 mg     *
M-Detox Blend Consisting of:
Garlic Powder, Red Clover Powder, Fenugreek Powder,
Quassia Wood Powder, Black Cohosh Powder, Red Sage
Powder, Goldenseal Powder and Gum
Arabic Powder.     250 mg     *

*% Guideline Daily Amount (GDA) not established.
Other Ingredients: Gelatin, Magnesium Stearate and Stearic Acid.
SUGGESTED USE: FOR OCCASIONAL USE ONLY: 1 packet taken at bedtime with 8 ounces of water or as directed by a healthcare professional.
SHORT-TERM CLEANSING PROGRAM: 1 packet with 8 ounces of water 3 times daily for up to 7 days or as directed by a healthcare professional. For best results, take 1 packet mid-morning, 1 packet mid-afternoon and 1 packet at bedtime. Do not repeat cleansing program for at least 6 to 8 weeks. This product should be taken in conjunction with a sensible diet high in fresh fruit and vegetables and 6 ounces of water eight times daily.

ALLERGEN WARNING: CONTAINS TREE NUTS (BLACK WALNUT)

CAUTION: Do not exceed recommended dose. Read and follow directions carefully. This product contains cape aloe (Aloe ferox), cascara sagrada, and senna leaves. This product is not intended for pregnant or nursing mothers or children under the age of 18. Do not use this product if you have abdominal pain, diarrhea or loose stools. Do not use this product for more than one week nor exceed the recommended daily dose. Rectal bleeding and / or failure to have a bowel movement after the use of a laxative formula may be an indication of a more serious condition. Should this occur, or if you have a known medical condition and are taking medication, consult your physician prior to taking this or any dietary supplement. This product is manufactured and packaged in a facility which may also process milk, soy, wheat, egg, peanuts, tree nuts, fish and crustacean shellfish.

WARNING: KEEP OUT OF REACH OF CHILDREN. DO NOT USE IF SAFETY SEAL IS DAMAGED OR MISSING. STORE IN A COOL, DRY PLACE.

These statements have not been evaluated by the Food and Drug Administration. This product is not intended to diagnose, treat, cure, or prevent any disease.