Pri-Multi - Multi Vitamin & Mineral Complex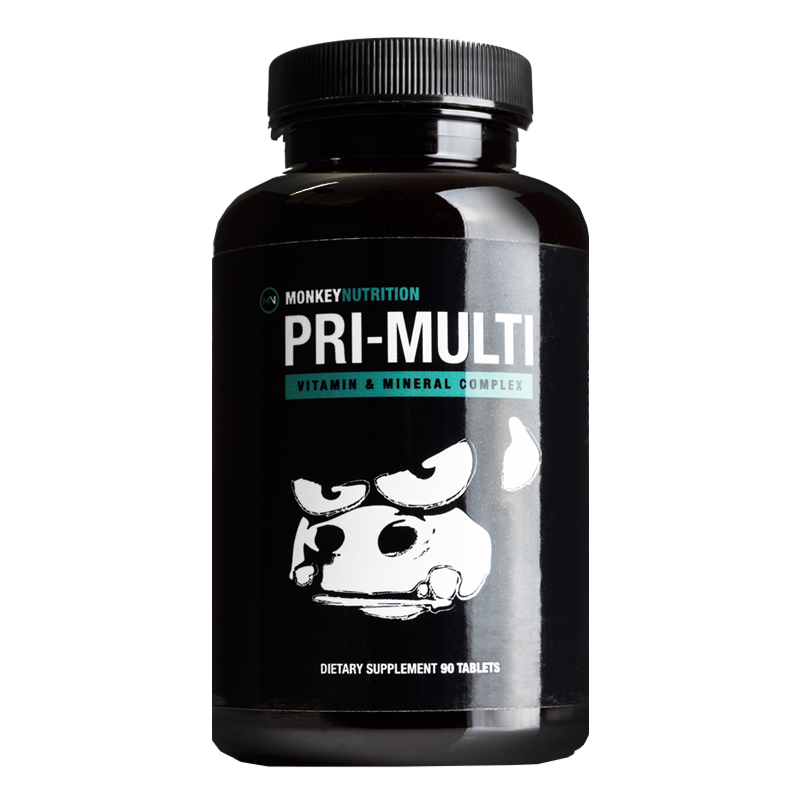 $37.00
Free delivery on orders over £125.00.
  Standard Delivery £3.75.
Pri-Multi is a market leading multivitamin and nutrient complex, containing high values of all the major vitamins and minerals to give your body what it needs on a daily basis.
90 Tablets
Start your day with Pri-Multi - a superior, premium multivitamin product containing fruit, greens and mushroom complexes, as well as high values of all your daily essential vitamins and minerals.

With a vast array of important nutrients such as coenzyme Q10, spirulina, green tea extract, flax seed powder, a digestive enzyme and RNA/DNA complex, Pri-Multi energises, replenishes, alkalizes and balances, making it the number 1 complete multivitamin complex on the market!
 
- High Values Of All Major Vitamins and Minerals
- Antioxidant Activity
- Promotes Cellular Regeneration
- May Enhance Physical & Mental Performance
- Contains Spirulina; A Complete Protein Source
Serving Size: 3 Tablets
Amount Per Serving  % GDA
                                                     
Vitamin A (beta carotene)  10,000 IU    200%
Vitamin C (ascorbic acid)  1000 mg     1667%
Vitamin D-3 (cholecalciferol)    400 IU     100%
Vitamin E  (d-alpha toco. Acetate)    400 IU     1333%
Vitamin K-1 (phytonadione)   100 mcg    125%
Vitamin B-1 (as thiamine mononitrate)      50 mg    3333%
Vitamin B-2 (riboflavin)  50 mg     2941%
Niacin (niacinamide) 50 mg     250%
Vitamin B-6 (pyridoxine hydrochloride) 50 mg    2500%
Folic Acid      400 mcg     100%
Vitamin B-12 (cyanocobalamin) 100 mcg    1667%
Biotin  100 mcg     33%
Pantothenic Acid (calcium pantothenate)   50 mg    500%
Calcium (carbonate /phosphate / citrate)   500 mg    50%
Phosphorus (di-calcium phosphate)   50 mg     5%
Iodine (from kelp)      150 mcg     100%
Magnesium (oxide/citrate)    250 mg     63%
Zinc (glycinate monohydrate)  15 mg     100%
Selenium (amino acid chelate)  200 mcg     286%
Copper (amino acid chelate)   1 mg     50%
Manganese (amino acid chelate) 5 mg     250%     
Chromium (picolinate / polynicotinate)     200 mcg    167%
Molybdenum (amino acid chelate) 100 mcg     133%
Potassium (chloride)  50 mg     1%
Chloride (potassium chloride)  54 mg     2%
Trace Mineral Complex      1 mg     *

42 Fruit & Vegetable Complex  400 mg (consisting of cinnamon, turmeric, ginger, blueberry, cranberry, grape seed, strawberry, raspberry, pomegranate, bilberry, alfalfa, carrot, beet, broccoli, acai, chokeberry, apple, apple pectin, maqui berry, grape skin, black cherry, tomato, barley, celery, chlorella, black currant, artichoke, mango, pineapple, spirulina, chlorophyllin, dandelion, wheat grass, green tea, milk thistle, eleutherococcus, senticosus, ashtaba, bing cherry, elderberry, goji berry, grapefruit, mangosteen, spinach, tart cherry and papaya)  

Spirulina 250 mg     *
Citrus Bioflavanoids 75 mg     *
L Acidophilus (20 million CFU)  25 mg     *
Soy Isoflavones (40% extract)  25 mg     *
Mushroom Complex (from Shitake, Reishi and Maitake)  50 mg     *
para-Aminobenzoic acid   50 mg     *
Hesperidin (95% extract)  25 mg     *
Rutin  25 mg     *
Quercetin Dihydrate 5 mg     *
RNA / DNA Complex  10 mg     *
Choline (bitartrate)  50 mg     *
Inositol   50 mg     *
Boron (amino acid complex)  3 mg     *
Lutein (marigold flower extract)   1 mg     *
Coenzyme Q10   10 mg     *
Grape Seed (95% extract)    25 mg     *
Pine Bark (95% extract)      25 mg     *
Green Tea (95% extract)   25 mg     *
Barley Grass   30 mg     *
Panax Ginseng (10% extract)     30 mg    *
Eleutherococcus Senticosus Root   30 mg   *
Flax Seed Powder      30 mg     *
Oat Fiber (herb powder)  25 mg     *
Digestive Enzyme Complex  (Betaine Hcl, Papain, Bromelain, Cellulase, Trypsin, Lipase, Amylase)         110 mg     *
Pri-Multi Blend   220 mg     *
Bilberry (4:1 extract, Ginkgo Biloba (24%), Gotu Kola (powder), Yellow Dock (powder), Garlic (powder), Licorice Root (powder), Lecithin and Apple Pectin)
   
*% Guideline Daily Amount (GDA) not established.
 % Guideline Daily Amount (GDA) is based on a 2000 calorie diet. Vitamin A <1%, Vitamin C <1%, Calcium 3%, Iron <1%.
Other Ingredients: Microcrystalline Cellulose, Vegetable Stearic Acid, Vegetable Magnesium Stearate, Silicon Dioxide, Croscarmellose Sodium and Pharmaceutical Glaze.
As a dietary supplement, take 1 Pri-Multi tablet 3 times daily with meals, or as directed by a healthcare professional.

ALLERGEN WARNING: CONTAINS SOY (ISOFLAVONES, LECITHIN), MILK (TRYPSIN), AND FISH.

CAUTION: Do not exceed recommended dose. Avoid taking this product in conjunction with other dietary supplements which contain high levels of elemental chromium. Pregnant or nursing mothers, children under 18, If you are diabetic, or have a known medical condition, consult your physician prior to taking this or any dietary supplement.This product is manufactured and packaged in a facility which may also process milk, soy, wheat, egg, peanuts, tree nuts, fish and crustacean shellfish.

WARNING: KEEP OUT OF THE REACH OF CHILDREN. DO NOT USE IF SAFETY SEAL IS DAMAGED OR MISSING. STORE IN A COOL, DRY PLACE.

These statements have not been evaluated by the Food and Drug Administration. This product is not intended to diagnose, treat, cure, or prevent any disease.